Let me extend my thanks to all of you for making the UK's first Africa Investment Summit such a success.
Certainly for me and all my colleagues in government, this has been a fabulous day.
I started off with President Kenyatta at the London Stock Exchange. This was absolutely a landmark moment...Read More »
---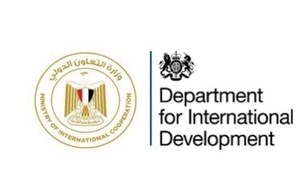 Secretary of State for International Development of the United Kingdom Alok Sharma and Minister of International Cooperation for the Arab Republic of Egypt Dr. Rania Al-Mashat have agreed in...Read More »
---
Alok Sharma announces new landmark infrastructure partnerships with Egypt, Ethiopia, Ghana, Kenya, Uganda and the African Development Bank
New British facility to generate billions of pounds of private sector investment for sustainable energy, transport and telecommunications projects in African countries
Alok Sharma commits to boosting investment in green, quality infrastructure such as...Read More »

---
We can't overestimate, I think, the powerful role in civil society can and does play in protecting and promoting human rights, democratic values and holding those in power to account. Our work here at the UN and across the globe would not be as effective without the contribution of civil...Read More »
---
Andrew Latchmore studied Law at Leeds University and has over 40 years' experience working as a lawyer focusing primarily on commercial property development work acting for both private and public sector clients. He was a Partner at Eversheds (now Eversheds Sutherland) for 25 years and served as National Managing Partner...Read More »
---
Government committed to delivering the biggest change in building safety for a generation
Housing Secretary announces the new Building Safety Regulator within the Health and Safety Executive, to be established immediately
Government sets out clarified and consolidated advice for building owners, proposal to extend cladding ban, update on fire sprinklers
Response to...Read More »

---
British and African firms have announced over £6.5 billion worth of commercial deals today, at the opening of the UK-Africa Investment Summit in London.
The commercial deals span a variety of sectors including infrastructure, energy, retail and technology, and will deliver high-quality investment, jobs and growth across the UK...Read More »
---
Baroness Stowell MBE, Chair of the Charity Commission, has welcomed the appointment of Joanne Prowse and Imran Gulamhuseinwala to the regulator's Board.
The Department for Digital, Culture, Media and Sport today announced the appointment of the new board members.
They replace Catherine Quinn and Laurie Benson whose terms of office came to...Read More »
---
Older Entries »