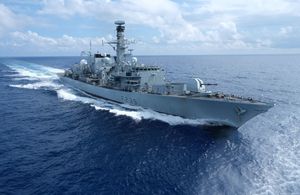 Press release
HMS Richmond captured evidence of ships apparently breaching UN sanctions targeting North Korea's Weapons of Mass Destruction and ballistic missile programmes.
Primary school children across the United Kingdom will receive a book that celebrates the achievements of the United Kingdom and Commonwealth over the last 70 years.
The book will be commissioned by the UK Government and designed to celebrate the people and places of the United Kingdom and Commonwealth. It will...Read More »
---
Up to 4,000 people will be trained as new HGV drivers to help tackle skills shortages and support more people to launch careers within the logistics sector.
Package of measures includes using MOD examiners to help increase immediate HGV testing capacity by thousands over the next 12 weeks.
Nearly 1 million...Read More »

---
Over 3,000 hectares of new woodlands are set to be planted along England's rivers and watercourses with backing from the country's leading environmental organisations, Forestry Minister Lord Goldsmith announced today (Saturday 25 September).
Planting trees on and around riverbanks, or allowing them to grow naturally, can help to improve water quality...Read More »
---
Design features portrait of Her Majesty The Queen and the Royal Crest
Medal will be awarded to serving frontline members of the police, fire, emergency services, prison services and Armed Forces with five years service as part of four-day commemorations taking place next year
The design of the medal awarded to a...Read More »
---
Older Entries »