Thank you very much indeed to General Lacroix and Special Envoy Nicholas Haysom to whom we say farewell and yet look forward to seeing you very soon of course; EGAD Special Envoy Ismael Waes who I know has been working on this dossier for so long and so tirelessly; and...Read More »
---
Housing associations have a central role to play in building the homes we need and challenging the attitudes that hold us back, Theresa May will say in central London today, as she announces new long-term funding for affordable housing.
As part of the Government's commitment to transform housebuilding, the Prime Minister...Read More »
---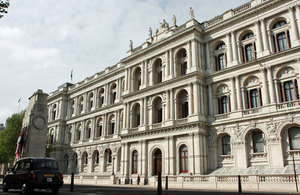 The UK's Minister for Europe, Sir Alan Duncan, has travelled to Macedonia at the start of a two-day visit to the Western Balkans, underlining the UK's commitment to playing an active and supportive role in the Western Balkans.
In Skopje, Sir Alan reaffirmed...Read More »
---
Thank you very much Mr President, and welcome back to New York.
Thank you to our two briefers, the Special Representative and the Under Secretary-General. And can I repeat the thanks of colleagues for everything your teams do on the ground to help the people of Syria. They need you more...Read More »
---
Thank you Stephanie and welcome everyone. I am truly delighted to be hosting this reception to celebrate London Fashion Week.
I want to thank Stephanie Phair, Caroline Rush – and everyone at the British Fashion Council – for their fantastic work in championing British fashion and London Fashion Week. And of...Read More »
---
Older Entries »