The UK will showcase the very best of British food and drink, as well as UK excellence across a range of sectors at this year's China International Import Expo (CIIE). A unique digital offer will enable audiences across the country to connect with pioneering UK innovation.
new 'recovery' contracts deliver government commitment to end the complicated franchising model and deliver a simpler, effective model to reform Britain's railways
agreements focused on high performance targets and simplifying journeys are first steps to a network that puts passengers back in control
Ministers today ended rail franchising after 24 years...Read More »
---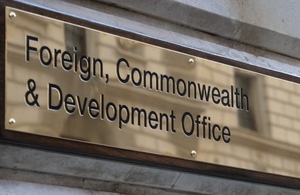 Press release
Statement by the United Kingdom, France and Germany on the JCPoA
Today marks 30 days since the US sought to initiate the 'snapback mechanism', which allows...Read More »

---
People will be required by law to self-isolate from 28 September, supported by payment of £500 for those on lower incomes who cannot work from home and have lost income as a result. New fines for those breaching self-isolation rules will start at £1,000 – bringing this in line with...Read More »
---
Flying straight from the UK, 250 soldiers from 16 Air Assault Brigade dropped into the Ternivsky training area, where they teamed up with thousands of Ukrainian troops ahead of Exercise Joint Endeavour.
Building on the strong relationship developed between the two nations' armed forces in recent years, the exercise provides both...Read More »
---
Older Entries »