Prime Minister Boris Johnson will host the Global Vaccine Summit virtually today
More than 50 countries and organisations will come together to secure funding for Gavi, the Vaccine Alliance
Summit aims to raise at least $7.4bn (approx. £6bn) to immunise a further 300 million children in world's poorest countries by 2025
Prime...Read More »
---
The murder of George Floyd has led to a global outpouring of anger and grief.
From Windrush to Grenfell, from Stephen Lawrence to Mark Duggan, we are not short of our own examples of institutionalised, deep-rooted injustices that shame us all
Racism has been exposed in the most shocking and tragic...Read More »
---
First let me first run you through the latest data on our coronavirus response.
4,786,219 tests for coronavirus have now been carried out or posted out in the UK, including 171,829 tests yesterday.
279,856 people have tested positive, and that's an increase of 1,871 cases since yesterday.
7,485 people are in hospital with...Read More »
---
3 Jun 2020
The Scottish Conservatives are demanding the SNP support Scottish fishermen against the EU demands for access to our waters.
In a statement on the Brexit negotiations in the Scottish Parliament this afternoon the Cabinet Secretary for the Constitution, Mike Russell claimed, "never has a no deal been more...Read More »
---
3 Jun 2020
The SNP government is failing care homes "all over again" on the issue of testing, the Scottish Conservatives have said.
Two weeks ago, health secretary Jeane Freeman pledged that all care home staff would be routinely tested for coronavirus.
However, latest testing figures have suggested that drive is falling...Read More »
---
3 Jun 2020
The Scottish Conservatives have demanded that the SNP government hands over the 'missing millions' due to councils immediately.
In this morning's local government committee meeting at Holyrood, Cosla confirmed that they still haven't received the £155m promised by the SNP government to local authorities to help them deal...Read More »
---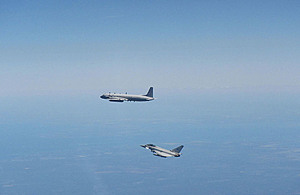 News story
Royal Air Force Typhoon fighter jets deployed to Lithuania have conducted their first intercept of Russian aircraft as part of the NATO Baltic Air Policing mission.