News story
Helen Pitcher OBE announced as preferred candidate for next Chair of the Judicial Appointments Commission.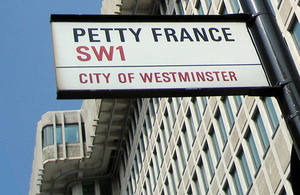 The Lord Chancellor, Rt Hon. Dominic Raab MP, confirmed today (28 November 2022) that the preferred candidate to be the next Chair of the Judicial Appointments Commission is Helen Pitcher OBE.
The Judicial Appointments Commission is the statutory independent selection body for judicial appointments in the courts and tribunals of England and Wales, and for some UK-wide tribunals.
Helen Pitcher has been selected following a rigorous assessment process conducted in accordance with Schedule 12 of the Constitutional Reform Act 2005. The Chair is appointed by His Majesty the King on the recommendation of the Lord Chancellor.
The role is subject to pre-appointment hearing by the Justice Select Committee. Pre-appointment scrutiny is an important part of the appointment process for some of the most significant public appointments made by Ministers. It is designed to provide an added level of scrutiny to the appointment process. Pre-appointment hearings are held in public and allow a Select Committee to take evidence before a candidate is appointed. Ministers consider the Committee's views before deciding whether to proceed with the appointment.
Helen Pitcher Biography
Helen Pitcher OBE is currently chair of the: Criminal Case Review Commission: the Public Chairs Forum and; Advanced Boardroom Excellence Ltd. Ms Pitcher holds two Non-Executive roles: C and C Group and; UB UK. Prior to this Ms Pitcher was: Chairman of Pladis Global between 2015-19; the Queen's Counsel Selection Panel between 2009-17 and; Director at Saville Group PLC between 2008-13.
Published 28 November 2022
Follow this news feed: HM Government