News story
The Department of Health and Social Care has appointed Julian Hartley as a new Non-Executive Director.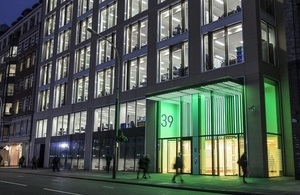 Julian Hartley joined the Department of Health and Social Care as a Non-Executive Director on 1 November 2021.
Julian is the Chief Executive of Leeds Teaching Hospitals NHS Trust and attends the Departmental Board and other DHSC governance boards and committees to provide external advice, support and challenge to the department.
Non-Executive Director at Department of Health and Social Care Julian Hartley said:
I'm honoured to have been appointed as a Non-Executive director at DHSC. I look forward to bringing my experience of many years of NHS leadership experience; in particular the importance of patient centred improvement and staff engagement, to inform the work of the Departmental Board.

I am also keen to support the Department's wider priorities as we recover from the significant impact of COVID-19 on our wider health and care system.
Published 8 December 2021
Follow this news feed: HM Government