El Embajador Británico en Panamá, Damion Potter, ofreció una recepción en su residencia en honor a Gary Stempel por recibir el MBE (Most Excellent Order of the British Empire /Orden del Imperio Británico) por su servicio a la juventud y al deporte en Panamá, y para celebrar las importantes relaciones...Read More »
---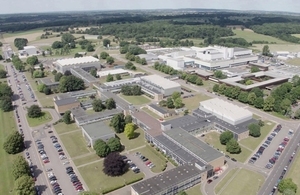 UKAEA is advertising four senior positions for people to play major roles in its drive to deliver on fusion's enormous potential for carbon-free electricity.
The Foreign Ministers of Egypt, France, Germany, Jordan, the Kingdom of Saudi Arabia, the United Kingdom, and the United States of America strongly support the work of the UN Secretary-General and UN Special Envoy Geir Pedersen to implement UN Security Council Resolution 2254.
In recent weeks, the UN has opened a...Read More »
---
Flooding is expected to cause continued disruption to communities in South Yorkshire, and parts of Lincolnshire and the north Midlands into next week. Areas of Gloucestershire around the River Severn, and near the River Avon in Worcestershire and Warwickshire are expected to be affected by flooding today until Monday.
More localised...Read More »
---
The team on-board Newquay-based Sikorsky S92 aircraft were actually airborne and on their way to Land's End for a routine training exercise – but received contact from the Falmouth Coastguard Rescue Team and the Aeronautical Rescue Co-ordination Centre (ARCC), reporting that a man had fallen into the water at Porthcothan,...Read More »
---
« Newer Entries
Older Entries »