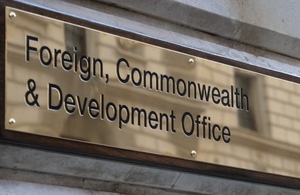 Press release
Foreign Secretary Liz Truss signed the UK-Greece Strategic Bilateral Framework with Foreign Minister Nikos Dendias
Foreign Secretary Liz Truss today (Monday 25 October) met her Greek...Read More »
---
Press release
Prime Minister Boris Johnson spoke to Indonesian President Widodo this morning ahead of next week's COP26 Summit.
The Prime Minister spoke to Indonesian President Widodo this...Read More »
---
For the second year running the Insolvency Service's annual stakeholder event Insolvency Live! was held online and attracted hundreds of people from across the insolvency and debt sectors, as well as the agency's partners from other government departments.
Ranuka Jagpal, the Insolvency Service's Chief Digital Information Officer, opened the event before...Read More »
---
Earlier in the year, the Disclosure and Barring Service (DBS) launched a campaign to raise awareness of job scams and employment fraud among job seekers, alongside JobsAware – a non-profit organisation that informs people of how to avoid and report job scams and other unfair working practices.
With...Read More »
---
Motorola Solutions Inc.'s (Motorola) Airwave network is the infrastructure and services that enable the police, fire and emergency services to communicate securely with each other when first responders are working in the field.
The Competition and Markets Authority's (CMA) decision to launch a market investigation follows a consultation, opened in July...Read More »
---
« Newer Entries
Older Entries »