World news story
An annual oil and gas conference happening in Ashgabat on 27 and 28 October has brought together over 100 companies and international organisations.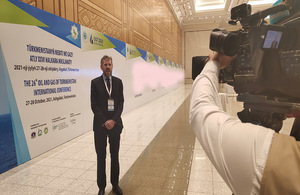 Featuring prominently in this year's discussions are efforts to reduce the environmental impact of energy production and consumption and advancing the transition to cleaner energy production from renewable sources.
Representing the UK government, Baroness Nicholson, Prime Minister's Trade Envoy stressed the importance of clean energy and urged companies to adopt the latest technological achievements on reducing emissions in her pre-recorded speech.
Speaking to the media, the British Embassy's Chargé d'Affaires Mr John Hamilton called on the companies and countries operate in a clean and efficient manner and to commit to net zero. He highlighted the crucial UN climate change conference COP26 in Glasgow where world leaders will meet to agree action to tackle the threat of global climate change.
With COP26 opening in few days-time, leaders stepping up with more commitments has never been more urgent. As the fourth largest emitters of methane according to the International Energy Agency, we hope the government of Turkmenistan will also commit to ambitious 2030 emissions reduction targets and to set out credible implementation plans. Recent announcement made by the government of Turkmenistan to build its first ever hydrogen production plant at an oil refinery in Turkmenbashy was the right step forward in terms of transition to the future of energy with much reduced CO2 emissions, said the British Chargé d'Affaires.
Published 28 October 2021
Follow this news feed: HM Government