Press release
Foreign Secretary Liz Truss signed the UK-Greece Strategic Bilateral Framework with Foreign Minister Nikos Dendias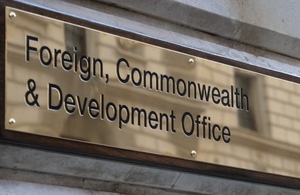 Foreign Secretary Liz Truss today (Monday 25 October) met her Greek counterpart Nikos Dendias to sign a new framework to boost trade, security and digital cooperation between the two countries.
Foreign Secretary Liz Truss said:
The framework we've signed with Greece will open up new opportunities for trade and investment in both countries, enabling better cooperation between businesses, investors and industry, and builds on strong security and defence cooperation as we seek to challenge malign actors that threaten to disrupt our freedoms and way of life.
The UK-Greece Strategic Bilateral Framework will build on the strong existing relationship between the UK and Greece. The two countries are committed to working together to promote stability and security as NATO allies, and to enhance Europe's resilience in the face of security threats from malign actors.
The framework will enable individual deals to be done across a range of sectors including foreign policy, defence, trade & investment, health, education, tourism and maritime affairs.
2021 marks 200 years since Britain played an influential role in Greece's struggle for independence.
Published 25 October 2021
Follow this news feed: HM Government