Press release
Minister Rehman Chishti calls for free and fair elections in Belarus.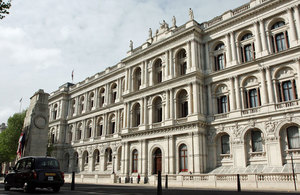 On the second anniversary of the fraudulent Presidential election in Belarus, Parliamentary Under Secretary of State at the Foreign, Commonwealth and Development Office, Rehman Chishti said:
Over the last two years, Lukashenko has led a campaign of repression against his own people.  There are now almost 1,300 political prisoners in Belarus. The authorities have tried to silence independent media and civil society.

We support the democratic aspirations and human rights of the people of Belarus.  We urge the authorities to abide by international law, release all political prisoners immediately and unconditionally, and permit those in exile to return home without fear of arrest or repression. We also condemn Lukashenko's support for, and complicity in, Russia's illegal invasion of Ukraine. We will hold Belarusian authorities accountable for their actions.

This includes through sanctions. Since Russia's invasion of Ukraine, we have designated over 50 Belarusian individuals and organisations who are aiding Russia's reckless aggression towards Ukraine. Furthermore, the legislation we laid in Parliament on 4 July extends recent Russia sanctions to Belarus by introducing new financial, trade and transport measures. These are in addition to the 117 designations we had already made in response to the fraudulent election and subsequent human rights violations.

There must be free and fair elections; the people of Belarus should be able to enjoy the democratic right to decide their future.
Published 9 August 2022
Follow this news feed: HM Government