News story
APHA continues to provide post-mortem and diagnostic testing support for livestock veterinarians but some restrictions are still in place due to COVID-19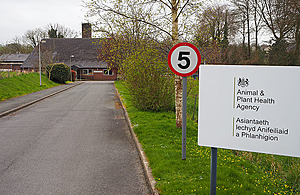 We are operating a reduced staff at each of our sites to ensure that we operate our workplace in line with Covid-Secure guidance.

For carcase submissions, please contact the Duty Vet at your Veterinary Investigation Centre (VIC) or Post-mortem Examination (PME) Centre to discuss and triage the case before submitting carcases for post-mortem examination. To identify your nearest VIC use the postcode finder on our Vet Gateway. Or you can view the full national network and all of our centres' contact details.

For other samples, we are prioritising our responsibility for statutory disease, animal welfare, serious disease outbreaks, potential food safety incidents and potential new or emerging diseases. We therefore ask that you do not submit non-urgent samples.

Current RCVS/BVA guidance is that veterinary practices begin the transition to a fuller range of veterinary services, in line with local legislation, rules and conditions; following safe working practices; and in line with clinical and professional judgement. This may result in farmers asking for post mortem examinations without having have a veterinary visit.

The need for telephone discussions about cases prior to submission has never been greater and our Veterinary Investigation Officers (VIOs) are available to do this, so please use the VIC contact number for your nearest VIC.
Contact with clients and members of the public: Social distancing and other hygiene measures are in place at all our locations, please follow the local information provided.
We request that anyone with clinical signs of a cough or a fever DOES NOT travel to the VIC.
Published 31 March 2020
Last updated 6 July 2020
+ show all updates
Title updated

Paragraphs 1 and 4 updated due to ongoing restrictions.

First published.
Follow this news feed: HM Government