News story
CNC officers and specialist search dogs have been hard at work supporting West Midlands Police to bring safety and security to the Commonwealth Games.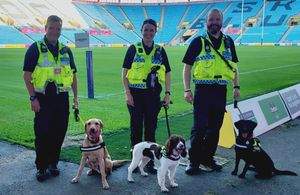 CNC handlers and police dogs have been on duty each day for the duration of the pre-games (18 – 22 July) and the post-games (25 July – 7 August), conducting searches and engaging with the public.
Officers have searched hotels, conference facilities, bus stations, train stations, stadiums, the National Exhibition Centre, Coventry City football grounds and Alexander Track and Field Stadium in Birmingham.
Upon completion, a total of 90 days of operational searches will have been conducted.
Insp Andrew Potter, of the CNC's Operational Dog Unit, said: "It has been an honour to be able to work alongside our West Midlands colleagues to provide specialist search dog capability during the Commonwealth Games."
Published 8 August 2022
Follow this news feed: HM Government