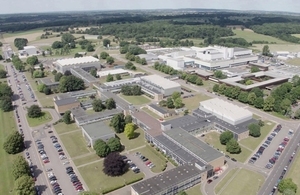 UKAEA is advertising four senior positions for people to play major roles in its drive to deliver on fusion's enormous potential for carbon-free electricity.
UKAEA is seeking a Programme Director for STEP (Spherical Tokamak for Energy Production) – a new £220 million five-year initiative to design a fusion powerplant. STEP aims to demonstrate the technical and commercial viability of fusion. This unique opportunity requires a director with the ability to manage large programmes and handle ambiguity and uncertainty to realise this first-of-a-kind world-leading ambition.

Secondly, UKAEA's unprecedented growth has created a unique opportunity for three new director posts to lead the fusion research programme, manage operations of world-class fusion facilities and drive benefits in adjacent sectors.
The deadline for applications is 16 December 2019. For further details of these roles and to apply, please follow this link to the Culham Centre for Fusion Energy website.
Published 15 November 2019
Follow this news feed: HM Government