News story
Minister for Africa Vicky Ford has issued a statement following the conclusion of the elections period in Somalia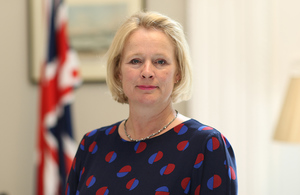 Minister for Africa Vicky Ford said:
I welcome the conclusion of the electoral process in Somalia and warmly congratulate Hassan Sheikh Mohamud on his election as President.

After the protracted electoral process, the UK encourages Somalia's leaders to work together with a new focus on issues of urgent national importance such as tackling al-Shabaab, responding to the devastating drought, maintaining fiscal stability, and constitutional reform.

At this critical juncture, the United Kingdom remains committed to supporting all the people of Somalia, and to working alongside President Hassan Sheikh and his government as they seek to build greater stability, security and prosperity. I look forward to continuing to strengthen the UK – Somalia relationship.
Published 16 May 2022
Follow this news feed: HM Government