Press release
Minister for Asia, Amanda Milling, comments on the recent test of a short range submarine launched ballistic missile by North Korea.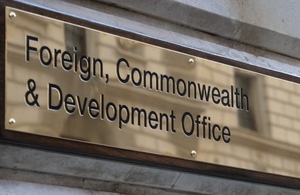 Minister for Asia, Amanda Milling said:
We condemn North Korea's latest testing of a short-range ballistic missile on 19 October in violation of multiple UN Security Council Resolutions.

The UK remains committed to the goal of denuclearisation of the Korean Peninsula.

We commend the diplomatic efforts of the US and regional partners, with whom we work closely, to seek peace on the Korean Peninsula and preserve regional stability.

We urge North Korea to return to dialogue and to abandon its nuclear and ballistic missile programmes in a complete, verifiable and irreversible manner.
Published 20 October 2021
Follow this news feed: HM Government