News story
Dr Martin James introduces the UK's radioactive waste inventories in his blog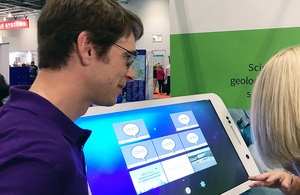 Martin is RWM's Senior Inventory Manager and has led the production of RWM's inventory for geological disposal since 2013. During this time Martin spent 15 months seconded into the NDA as National Waste Inventory Manager. Prior to RWM, Martin worked as a consultant, modelling the long-term safety of radioactive waste management facilities, both in the UK and abroad.
Martin has a scientific background, having completed a PhD based at Culham Centre for Fusion Energy, and an MSci in Physics with Astrophysics.
In RWM's latest blog, Dr Martin James introduces the UK Radioactive Waste Inventory (UKRWI), one of the world's most transparent and comprehensive, and explains how it informs our Inventory for Geological Disposal (IGD).
Dr Martin James says:
The UK's radioactive waste inventories are among the most transparent in the world. We have a practical use for the IGD, to help us plan ahead for a safe and effective Geological Disposal Facility, but the IGD and UKRWI are also useful for anyone who wants to know how much radioactive waste there is in the UK, where it is, and how we plan to deal with it.
You can read the blog in full here.
Published 11 August 2020
Follow this news feed: HM Government