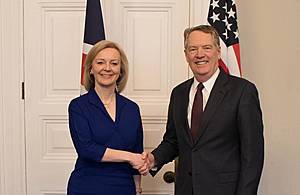 International Trade Secretary Liz Truss has today (Thursday 27 February) met US Trade Representative Robert Lighthizer in London.
The Trade Secretary and Ambassador Lighthizer reiterated their commitment to get on with negotiating a free trade agreement and improving the bilateral trading relationship between the US and the UK.
The UK is set to publish its negotiating objectives next week.
The International Trade Secretary, Liz Truss said:
Securing an ambitious free trade agreement with the US is one of my top priorities, delivering benefits to towns across the whole of the UK from Edinburgh to Enniskillen.

We want an agreement that benefits both small businesses and entrepreneurs and every industry, from agriculture and manufacturing to professional and business services.

The UK stands ready to negotiate a highly ambitious free trade agreement with our biggest trading partner and will publish our negotiation objectives very soon.
Published 27 February 2020
Follow this news feed: HM Government