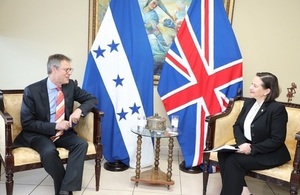 Ambassador Whittingham met with Deputy Foreign Secretary, Norma Cerrato, to present initial documentation before he meets the Honduran President in a date that is to be determined.
Newly appointed Ambassador Whittingham explained about his work plans in Honduras. Top UK priorities include spur our bilateral economic relationship, work on climate change issues and keep strengthening the rule of law.
Ambassador Whittingham also travelled to Roatan, and met with British Nationals living and visiting the Bay Islands, to explain more about our consular work.
Mr Nick Whittingham was appointed Her Majesty's Ambassador to the Republic of Guatemala and Her Majesty's Non-Resident Ambassador to the Republic of Honduras in April 2019. The Ambassador arrived to the region in September 2019.
Published 16 January 2020
Follow this news feed: HM Government