Dstl announces latest free IP opportunities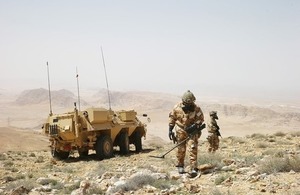 Lower limb injuries from either purpose-designed mines or Improvised Explosive Devices (IEDs) are not always fatal but invariably life-altering. This technology uses a shaped metal 'cup' that covers the foot from heel to mid-sole. It can be sized to fit either over the shoe or as an insert and has been shown in blast trials to preserve the lower leg from traumatic amputation. Applicable to both the military and civilian sectors, particularly in areas of the world affected by legacy munitions, there is an opportunity to develop, design and manufacture a potentially low cost item of humanitarian benefit.
Andvari is a digital forensic assessment tool that uses statistical techniques and machine learning to increase the identification of data during digital forensic investigation. A probabilistic framework "learns" which data is of interest to an investigator, saving a significant amount of time compared to a random search. The technology is applicable to all fields of digital forensics in which metadata is analysed and prioritised, such as law enforcement and defence.
Technologies available through Easy Access IP are usually considered to be at low technical readiness for commercialisation. For Dstl the scheme provides a mechanism to release low technical readiness technology to those who may be able to develop it further. By offering the licences for free, Dstl hopes to build stronger relationships within industry and academia and see the technology potentially come to market and create an impact.
For more details visit Dstl's Guidance to Intellectual Property
Published 16 October 2019